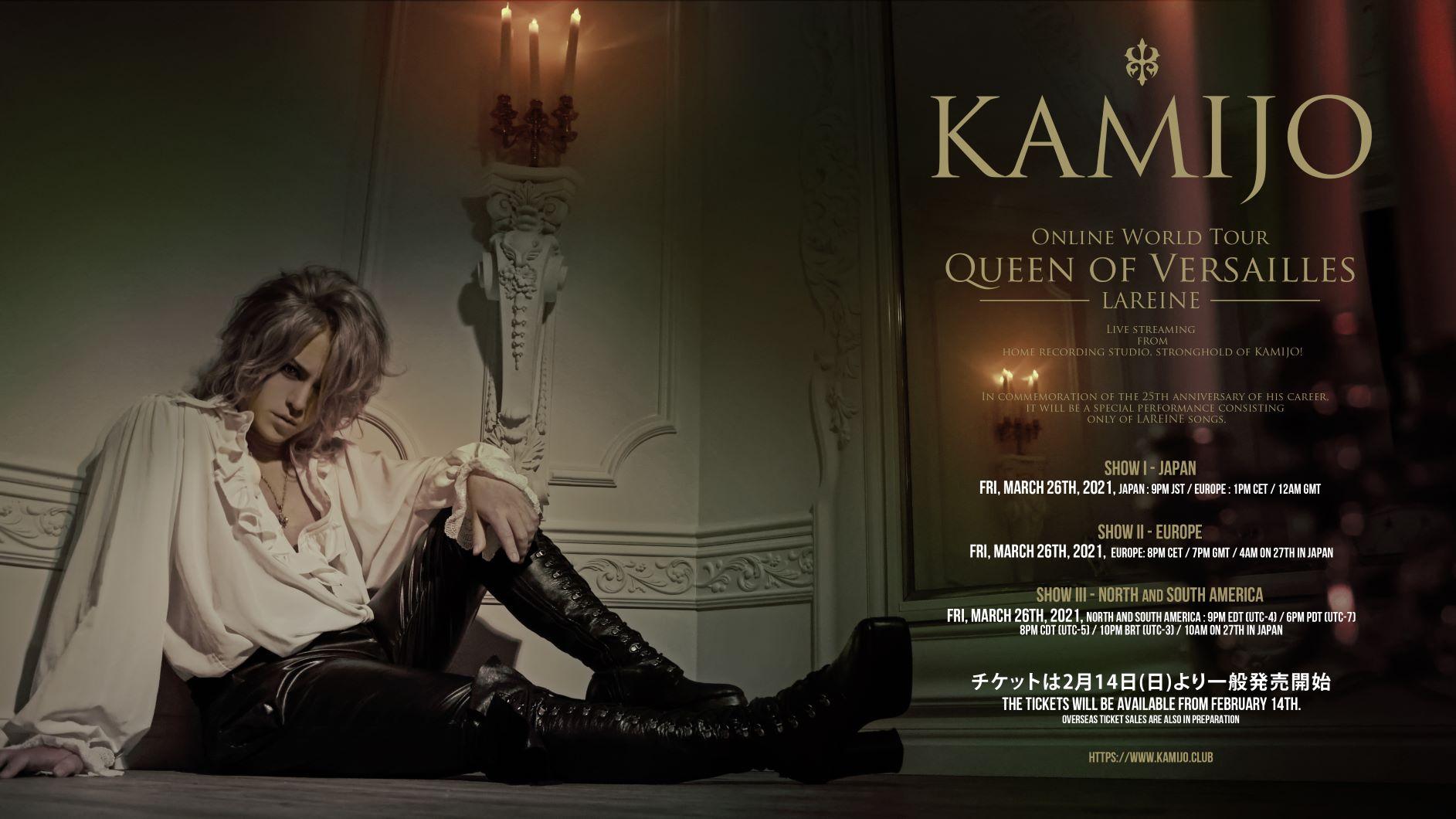 The very first streaming concert of KAMIJO, KAMIJO Online World Tour « Queen of Versailles – LAREINE-» is coming up! It will be aired directly from his brand-new recording studio built in his house! Celebrating his 25th anniversary of his career, these special performances consist only in LAREINE's song, his first band. He will perform the brand-new song written by MAYU, LAREINE's guitarist, just for this event. It was 15 years ago when KAMIJO sang the song written by MAYU. It was « Last Song For You » which was on their last Single. By the way, these streaming concerts are a real Hybrid event where the reality of the live performance and the high-quality sequences created by the edition merge. You will enjoy the Live parts with his live voice and the recorded concert's parts with different camera angles with high quality sound.
World Pre-Order from February 06th 2021 at 10:00 to February 13th 2021 at 15:50 (French Time)
Public Order from February 14th 2021
Concerned Concerts:
- SHOW I JAPAN : March 26th 2021 at 13:00 (French Time)
- SHOW II EUROPE : March 26th 2021 at 20:00 (French Time)
- SHOW III NORTH & SOUTH AMERICA : March 26th 2021 at 21:00 (EDT UTC-4)
Artist : KAMIJO
Violin : Crusher Kimura
PIano : Kouta Sayama
Guitar : RENO
Bass : MASASHI(Versailles)
Drums : Shin Watanabe
Manipulator : Yuji Yoshida
Video Producer : Shin Watanabe
Guest Chorus : SONO (Matenro Opera)
Guest Guitar : TERU(Versailles)
Guest Bass : SHIGURE
It's about a world tour with 3 concerts « SHOW I -JAPAN », « SHOW II EUROPE » , « SHOW III NORTH AND SOUTH AMERICA » performed between March 26th at 21:00 and March 27th at 11:30 in Japanese time. Each concert has its own ticket.
*it's about the streaming concerts aired from the recording studio and not from a live house or a concert hall.
*It's about a Hybrid concert with live performance and recorded sequences.
*A part of concerts contains the same recorded sequences.

Price :
SHOW I JAPAN : 35€ + fees
SHOW II EUROPE : 25€ + fees
SHOW III NORTH & SOUTH AMERICA : 25€ + fees
Tickets and Tour Goods are available on yamazakura.fr
Link to the streaming concert:
3 days Archive available after the show (SHOW I & II until March 29th at 16:59 SHOW III until March 30th at 16:59 in French time)